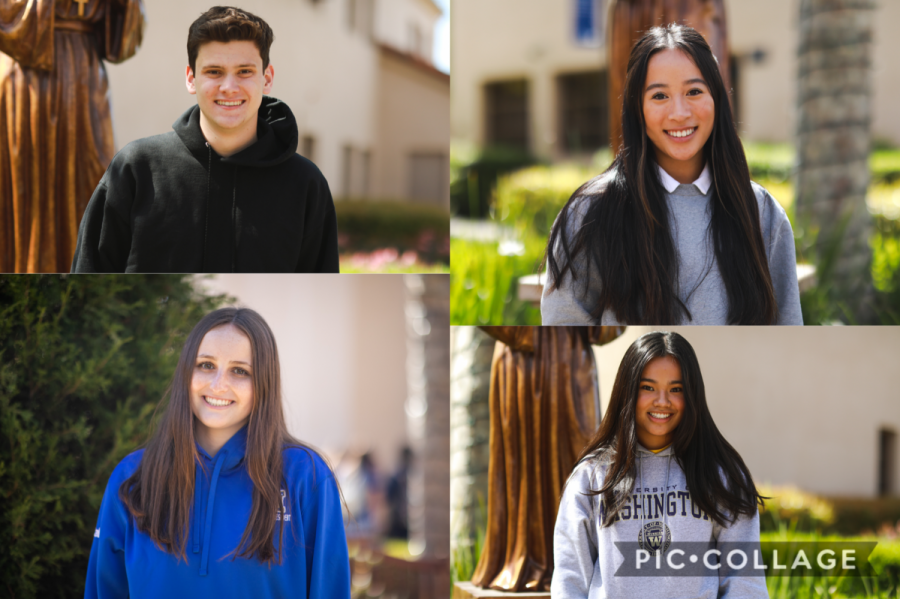 Big shoes to fill
The student body elects four students to the 2020-2021 ASB Executive Council.
May 15, 2020
For years, the student body has been led and served by an elected group of students called to fulfill the many responsibilities and expectations of the ASB Executive Council. Following a school-wide election, four distinguished students are excited to fulfill this role.
For the 2020-2021 school year, the student body will be led by ASB President Alexis McCabe, ASB Vice-President Jack Graham, ASB Secretary Samantha Cruz, and ASB Treasurer Sophie Tran. Each student has served at least one year as an ASB officer and is excited to bring that experience to next year's ASB Executive Council.
"Being on ASB Exec the past year showed me the opportunity to have higher leadership positions," said McCabe. "I wanted to continue that to help lead ASB in continuing to make it even stronger. I wanted to be a leader for SM and make a difference."
As former ASB Treasurer of the 2019-2020 school year, McCabe has the experience of previously serving on the ASB Executive Council and hopes to apply that knowledge to the distinguished role of ASB President.
Similarly, junior Jack Graham will bring his experience as Junior Class President to the role of ASB Vice-President.
"I hope to raise school spirit, having everyone build each other up, not beat each other down," said Graham. "[Through] ensuring positivity and supporting each other no matter what, and embracing diversity, we're able to make SM a home for everyone."
Taking on the role of ASB Secretary, junior Samantha Cruz previously served as Commissioner of Marketing.
"Seeing how much ASB has grown this year, its been inspiring to see, and I wanted to be a part of it," said Cruz.
As Commissioner of Marketing, Cruz helped run the student-run Instagram account @smchsnest, as well as contributing to designing digital marketing and creating posters for the campus.
"I think they chose me because I'm really organized," Cruz said. "But I also know how to relate to the students and hear what everyone has to say and put that into action."
Elected to the role of ASB Treasure, student government has always been a big part of junior Sophie Tran's life. Having served as Commissioner of Arts, Tran has learned the vital role ASB plays on campus.
"I think ASB is the voice of the student body and connects us to the faculty and admin," said Tran. "We are able to advocate for all our peers and the students here. Especially when they want to fix something or they want something more."
The ASB Executive Council will begin their term by appointing ASB officers to serve as commissioners and representatives after an intensive interview process. Throughout the next year, McCabe, Graham, Cruz, and Tran, will have the opportunity to improve the lives of the student body each and every day.